In ESB Sistemas we focus on research, development and innovation (R & D & I). These 3 factors are the basis of our growth and our main difference compared to our competitors.
We allocate an important percentage of our profit to promote new technological projects. We collaborate with companies, universities and different institutions in national and international research projects.
Estos son algunos de los proyectos en los que hemos participado
PROJECT: LOW VISUAL AND AUTONOMOUS IMPACT ANTENNAS SYSTEM FOR LTE AND WIMAX MOBILE BANDS
OBJECTIVE: The development of a new structure of mobile phone antennas capable of housing monosector or trisector antenna modules for the LTE and WiMAX bands, with low visual impact, ecological and respectful to the environment.
PROJECT: RADIANT SYSTEMS OF INTERIOR COVERAGE OF EXTENDED BAND AND DOUBLE POLARIZATION FOR THE GSM, DCS, PCS, UMTS, LTE AND WIMAX BANDS.
OBJECTIVE: The development of new directional (wall) and double-polar omnidirectional (ceiling) antennas for the LTE and WIMAX bands is intended to be used in the current GSM900, GSM1800 And UMTS.
In addition, the antennas should be low cost in order to achieve the largest global market share, integrated allowing a reduction in size, efficient and low visual impact in order to affect the least in the interior design of buildings.
PROJECT: DEVELOPMENT OF A NEW FAMILY OF RADIANT SYSTEMS OF MOBILE TELEPHONY OF MULTIBUILDING AND MULTIBAND TECHNOLOGY FOR SHARING OF 4G NETWORKS
OBJECTIVE:
Generals
By means of the execution of the present project it is intended to carry out the development of a new family of trisectorial multi-operator and multiband mobile telephony antennas in order to condense what previously consisted of at least 12 antennas per panel.
Other general objectives that are sought with this project are to achieve a reduction of the visual impact caused by the antenna, a reduction of installation, maintenance and repair costs and to obtain a lower energy consumption.
Strategic
This new project that ESB Sistemas intends to carry out, will allow the internationalization of a new family of products, affecting European and Latin American markets in a viable and highly competitive way.
Commercial
Thanks to the development of this new system, ESB Sistemas aims to increase its turnover by up to 20% per annum over the next 3 years.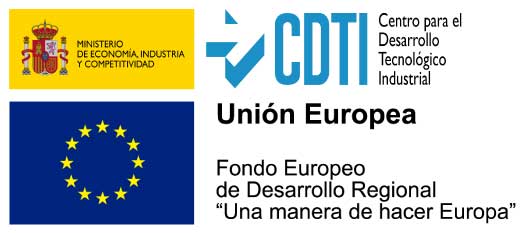 The Centre for the Development of Industrial Technology (CDTI) is a Spanish public organisation, under the Ministry of Science and Innovation, whose objective is to help Spanish companies to increase their technological profile. It is a state-owned company, and, established in 1977, has financed more than 15,000 technology development projects so far.
Its main activity is to evaluate and finance technological development, innovation and modernization projects developed by Spanish companies: CDTI grants financial help of its own to companies and facilitates access to that of third parties (bank financing from the Line for the Financing of Technological Innovation) for the execution of both national and international research and development projects.
Estamos aquí para ayudarte, si necesitas consultarnos cualquier cosa no dudes en hacerlo.
Parque Empresarial Táctica
C/Coeters nº 9 (Nave 5)
46980 Paterna
Tel. +34 961 340 797
Fax +34 961 340 800
www.esbsistemas.es
esb@esbsistemas.com